Celebrating 95 years supporting our community!
The Junior League of Pasadena was founded in 1926 by a group of young women formerly called the Junior Aid Society, a support group for the Boy's and Girl's Aid Society. Since that time, we have supported our community in a variety of ways, both indirectly and directly. We adapt our volunteer service programs to meet the interests of our members and of our community over time.
We hope to continue this tradition of volunteering and support for the next 95 years and beyond. Below are just some of the programs that the Junior League of Pasadena has started or participated in recently.
---
Support and Development of Women (2015 - current)
Business, Entrepreneurship, and Leadership Skills

In 2015 we switched from a project-based model to an impact-based model and went through an evaluation process to find our new focus area. All members were incorporated in this process and we came to agreement on the "support and development of women" to be our new guiding light. The way we could best provide this to our community was to focus on business, entrepreneurship, and leadership skills (BELS) for women. This has given life to a variety of projects under this umbrella

 such as Women's Career Workshops, Development Drives, Lean In Circles, advocating for legislation focused on making it better for women in the workplace, and launching a resource website called PasadenaHelp.org.

Little Black Dress Initiative (2017 - current)

Founded by the Junior League of London, the Little Black Dress Initiative (LBDI) is a week-long awareness and fundraising campaign that harnesses the power of social media to illustrate the restrictions poverty places on choices, opportunities, and access to resources. Advocates wear one black dress (or outfit) for five consecutive days, in an effort to spark conversations and awareness about poverty and related issues. They also tap into their social media networks by posting about the initiative throughout the week.
Kids in the Kitchen (2008-2015)
Inspired by the Junior League of Calgary's Junior Chefs program, the Junior Leagues' Kids in the Kitchen initiative began in 2006 with the goal of engaging kids in the preparation of healthy meals as a means to educate them and their parents regarding nutrition and healthy lifestyle choices. Junior Leagues in more than 200 locations provide lessons and demonstrations related to preparation of healthy meals and snacks in partnership with local community organizations, chefs and nutritionists.
Kids in the Kitchen was an eight year tradition in Pasadena (2008-2015), promoting child health and wellness by empowering children and youth to make healthy lifestyle choices, therefore preventing obesity and its associated health risks.
---
My Masterpieces (2011-2014)
Helping Pasadena Children Discover Art in Our Community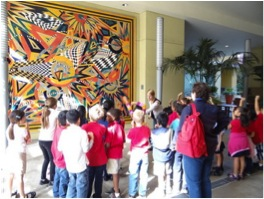 My Masterpieces connects PUSD's Second Grade students to the public art in our community in fun and educational walking tours which incorporate the grade-level educational standards and showcase Pasadena's public art treasures. After the tour, students return to their classroom to create collages and small sculptures that are inspired by Pasadena's public artworks and the concepts they learned in the tour.
The JLP supported Pasadena public art and childhood education through its partnership with My Masterpieces from 2011-2014. From October through April each year, JLP docents led 62 public art tours to second-grade classrooms. Bilingual docents conducted tours in Spanish and Mandarin for language-immersion schools, and volunteers also accommodated tours for children with physical and developmental disabilities who attend Special Day Classes.
This innovative and award-winning arts education program has produced tremendous results. The program has successfully maintained arts education for PUSD students and was lauded for its role in serving as a bridge between the Pasadena Unified School District (PUSD) and area museums, including JLP Partners, the Armory Center, The Huntington, and Kidspace. As the only program of its kind in California, My Masterpieces has been recognized with a prestigious CAMMY award from the California Association of Museums and the Golden Bell Award from the California School Board Association's for its work in introducing Pasadena students to art in their community. In addition, Pasadena teachers highly value this program as it allows their students to artistically express themselves and improve their critical thinking skills.
Thanks to My Masterpieces for allowing us to be a part of this wonderful program!
---
Mothers' Club Family Learning Center
Early Readers Family Literacy Program (2012-2014)
After three fabulous years, we completed our partnership with the Mothers' Club Family Learning Center's Early Readers' Family Literacy Program. It is a truly rewarding program, and we are so proud to have partnered with this organization.
Mothers' Club serves Pasadena mothers who want a better future for their children, but are overwhelmed by poverty, lack of education, and inadequate social support. Our parenting, adult education and family wellness programs prepare mothers to help their children thrive, while our top-ranked early childhood program prepares their children for kindergarten.
The Early Readers' Book Club meets one Saturday a month. It's a unique program designed to inspire a love of reading in preschool children and strengthen the literacy skills of English-learning mothers.
The Mothers' Club understands that parents play a critical role in making sure their children are read to everyday. Many of the young mothers served through Mothers' Club are English‐learners and may not have the confidence to read aloud. Through peer-to-peer modeling, volunteers help parents become more comfortable with listening to and reading aloud in English.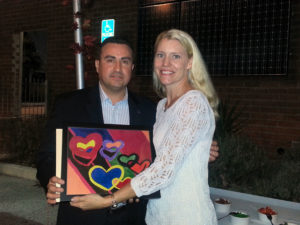 We were honored to be recognized for our support of the program by Mothers' Club at their 51st Anniversary celebration in October 2012. There was a tremendous turnout at the event, truly demonstrating the broad reach of this program! The JLP was presented with a lovely piece of artwork created by the mothers at Mothers' Club as well as certificates of achievement from Congresswoman Judy Chu and LA County Supervisor Mike Antonovich. These certificates and artwork are on display at our Headquarters.
---
In 2011, we expanded the focus and reach of our volunteers by partnering with other non-profits in the San Gabriel Valley.
In 2011, we changed the way we served the community by transitioning to a "partnership model" to provide volunteer and financial support to local non-profits. This strategy allowed us to increase our reach and effectiveness in the community. Four new volunteer projects were selected to be run in partnership with other area non-profits. These projects focused on girls' health and wellness, art education in Pasadena schools, family literacy, and Alzheimer's care. This model shifted our focus away from middle school girls and toward a broader set of issues and base of constituencies to better serve the needs of our community.
---
The Junior League of Pasadena has also been involved in a wide range of cultural activities and notable projects in our community, including:
Collaboration with the Pasadena Area Youth Music Council to produce a series of children's concerts including premieres of three original childrens operas by JLP member Mary Elizabeth Caldwell.
Originating the Junior Museum at the Pasadena Art Museum (now the Norton Simon Museum).
Service by the Pipers, a group of JLP members and community volunteers who, for over 30 years, provided choral singing to hospital patients, senior centers, day care centers, and schools.
From 1958 to 1994, provided volunteer support for the Docent Program at the Huntington Library Art Gallery, which served over 4,000 students yearly.
The creation of Kidspace Children's Museum which opened its doors in 1980 as a children's participatory museum serving children and their families.
Volunteer hours for docent tours, research and conservation work at the Pasadena Historical Society.
Girls Rock! (2004-2011)
With the Cornerstone Cottage programs in place, we designed an exit strategy for our volunteer work in Madison Elementary School and surrounding neighborhood by the end of 2006.
At the same time, we embarked on a new signature project called "Girls Rock!" to endow adolescent girls with the understanding of their potential and the skills necessary to reach their goals. "Girls Rock!" provided unique and innovative developmental learning experiences for middle school girls that positively impacted their lives and strengthened their personal foundation for the future. This program nurtured the physical and emotional health as well as the well being of every girl it touched, allowing them to develop life skills and support healthy, authentic relationships.
We adopted three programs under the Girls Rock! umbrella: BodyWise, a girl's fitness and wellness conference; Be R.E.A.L., a series of seminars for girls and their parents/guardians that focus on healthy relationships; and Side by Side, a mentoring program for girls and JLP members to nurture their volunteer spirit as they gave back to the community.
BodyWise

(2006 - 2011)

BodyWise was a one day conference for middle school girls and their caregivers in which they come together to learn about and participate in interactive workshops dealing with important topics such as positive body image, self-esteem, nutrition and much more.

BodyWise was developed to meet the growing need for services directed towards middle school girls by providing unique and innovative developmental learning experiences for underserved girls in grades 6-8 and their parents/caregivers. Participants are drawn from all across the San Gabriel Valley; participants came from as far away as west Los Angeles and Long Beach.

Side By Side

Side by Side (SBS) was a mentoring program designed to help middle school girls realize their full potential by providing them with opportunities to become more involved in their communities. The program partnered women in the Junior League with girls living within the Pasadena Unified School District in order to participate in volunteer experiences. Past projects have included creating animal toys for abandoned pets following Hurricane Katrina, wrapping packages for home bound senior citizens during the holiday season, and planning a community/job fair for students at Wilson Middle School.

Be R.E.A.L.

In partnership with The Institute for Girls' Development, Be R.E.A.L. was a program developed for middle school girls and their parents or

caregivers to learn more about the social world of middle school and to gain strategies to empower girls to have positive friendships.
Nurturing Children Through Family Support

(1997-2015)

In 1997, we adjusted our focus to best serve our community. After much study and training, we chose a new issue area: Nurturing Children Through Family Support. At the start, we concentrated the majority of our efforts on the James Madison Elementary School and surrounding community in Pasadena. We embarked on a long term commitment to the children and families of this community by contributing over $1.5 million and over 50,000 volunteer hours over 9 years. The Madison Neighborhood Village and Cornerstone Cottage (which the JLP bought, refinished, and deeded to the Pasadena Unified School District) are places where children, their families, and neighborhood residents can convene for enrichment activities, academic support, literacy development, and a variety of health and human services.

The Cornerstone Cottage

It was the year 2000 and the Junior League of Pasadena had turned its attention to Madison Elementary School in northwest Pasadena, investing volunteer time, funds and other support. Gloria Gartz had left a large bequest to the League to be spent over a 10-year period in the community. There was strong leadership at Madison and the League formed a solid partnership with the school. The League created a library and computer lab at the school, among other programs.

However, parent/family engagement at the school was lacking. Research shows that when parents are involved in school, kids do better. Measure Y had been passed and was providing beautiful renovations. But no significant space was allotted for parents to be together.

League members Christina Altmeyer and Lisa Cavelier researched programs nationwide, even visiting some very successful programs in New York City, including the Beacons program in Harlem, where they learned that giving parents a space to meet not only brought parents to the schools, but also empowered them to become more involved. Bringing the concept to Pasadena's northwest region, they decided to find a space near Madison Elementary School. To locate an appropriate property, League members knocked on doors all around the neighborhood, visited the City Clerk's office to find property ownership records (this was pre-internet days!), called owners, and were persistent! Many of the properties adjacent to Madison Elementary were considered "nuisance" properties, with drug and other negative involvement going on in and around them.

The League identified the property at 805 N. Madison A and purchased it for approximately $200,000. Junior League member and architect, Georgie Kajer, Kajer Architects of La Canada, donated her time to draw up the renovation plans, and the bidding process for contractors began. Over a period of the next nine months, work on the cottage was completed, with donations coming in for a number of items such as asphalt for the driveway, a refrigerator, paint, landscaping and more! Ultimately, the League sold the Cornerstone Cottage (as it was dubbed), to the Pasadena Unified School District for $1, with the understanding that it would always be a place for parents and family programming.

Early programming that the League helped to bring in included offerings from Women at Work, PCC, help for starting a home business, parenting skills and more. The League worked very closely with the leadership at Madison as well as with the Madison Neighborhood Partners, a local, very active neighborhood association.

Over the years, the Armory Center for the Arts has managed the Cottage, and today it houses the offices of Adelante Youth Alliance, a dynamic organization offering empowerment and programs for youth. The long-term support of the PUSD remains. The League's legacy in the Madison neighborhood remains strong, which continues to support the theme of Changing Children's Lives Through Family Support.