My Masterpieces (2011-2014)
Helping Pasadena Children Discover Art in Our Community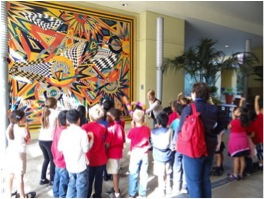 My Masterpieces connects PUSD's Second Grade students to the public art in our community in fun and educational walking tours which incorporate the grade-level educational standards and showcase Pasadena's public art treasures. After the tour, students return to their classroom to create collages and small sculptures that are inspired by Pasadena's public artworks and the concepts they learned in the tour.
The JLP supported Pasadena public art and childhood education through its partnership with My Masterpieces from 2011-2014. From October through April each year, JLP docents led 62 public art tours to second-grade classrooms. Bilingual docents conducted tours in Spanish and Mandarin for language-immersion schools, and volunteers also accommodated tours for children with physical and developmental disabilities who attend Special Day Classes.
This innovative and award-winning arts education program has produced tremendous results. The program has successfully maintained arts education for PUSD students and was lauded for its role in serving as a bridge between the Pasadena Unified School District (PUSD) and area museums, including JLP Partners, the Armory Center, The Huntington, and Kidspace. As the only program of its kind in California, My Masterpieces has been recognized with a prestigious CAMMY award from the California Association of Museums and the Golden Bell Award from the California School Board Association's for its work in introducing Pasadena students to art in their community. In addition, Pasadena teachers highly value this program as it allows their students to artistically express themselves and improve their critical thinking skills.
Thanks to My Masterpieces for allowing us to be a part of this wonderful program!