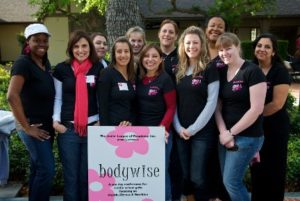 With the Cornerstone Cottage programs in place, we designed an exit strategy for our volunteer work in Madison Elementary School and surrounding neighborhood by the end of 2006.
At the same time, we embarked on a new signature project called "Girls Rock!" to endow adolescent girls with the understanding of their potential and the skills necessary to reach their goals. "Girls Rock!" provided unique and innovative developmental learning experiences for middle school girls that positively impacted their lives and strengthened their personal foundation for the future. This program nurtured the physical and emotional health as well as the well being of every girl it touched, allowing them to develop life skills and support healthy, authentic relationships.
We adopted three programs under the Girls Rock! umbrella: BodyWise, a girl's fitness and wellness conference; Be R.E.A.L., a series of seminars for girls and their parents/guardians that focus on healthy relationships; and Side by Side, a mentoring program for girls and JLP members to nurture their volunteer spirit as they gave back to the community.